MECHANISMS OF DEVELOPMENT OF THE SCIENTIFIC AND TECHNICAL POTENTIAL OF UKRAINE IN THE CONDITIONS OF EUROPEAN INTEGRATION AND MIGRATION PROCESSES
Keywords:
war, innovation, intellectual migration, personnel, science, education, potential, progress.
Abstract
The article describes the relationship between scientific and technological progress and the scientific and technological potential of the country. In particular, the concept of scientific and technical potential in modern research is analyzed. The parallel of the development of scientific and technical potential with the introduction of innovations and further innovative growth of the country was traced. The role of scientific and technical potential in the growth of the world economy and macroeconomic indicators is substantiated. The most important directions of science and scientific and technological progress are determined. Quantitative indicators of the impact on the scientific and technical potential in such countries as the USA, Japan, Germany, France and Great Britain were monitored. Processes of intellectual migration («brain drain») have been identified as a key problem in the development of scientific and technical potential. In particular, it is determined that intellectual migration is caused by processes that occur not within the intellectual sphere, but in society in general: in the economic, social, political, cultural environment, etc. The key factors affecting intellectual migration in Ukraine are characterized, in particular, due to the war and related factors, including progress in the de-occupation of temporarily occupied territories, direct shelling by russian troops of populated areas, the emergence of man-made or natural crisis phenomena, etc. It was determined that in order to avoid or minimize the migration of intellectual specialists, it is necessary to develop a sustainable system of retaining, training and supporting personnel, to join the process of struggle for education seekers. Education is characterized as a highly qualified service, and many countries and the best universities in the world compete for its provision, which should give impetus to development in Ukraine as well. An appropriate step is to create a normative-legislative framework that regulates the processes of external intellectual migration, provides for the development of bills on the entry and exit of citizens with an intellectual purpose, on the social protection of migrating citizens. There is a well-founded need to properly assess the work of scientists and create all the necessary conditions for their development.

References
1. Александрович Г. Р. Науково-технічна політика та державне регулювання інноваційною діяльністю в Україні. Вісник Національного університету цивільного захисту України Серія «Державне управління». 2017, № 6.
2. Бєлов О. Кадрова складова науково-технічного потенціалу України: особливості динаміки. Вісник Тернопільського національного економічного університету. 2019. № 2. С. 24–35.
3. Вплив міграції на соціально-економічну ситуацію в Україні: аналіт. доп. / за ред. В. Потапенка. Київ: НІСД, 2023, 33 c.
4. Кареба М. І., Хохлова Ю. Ю. Формування та оцінка інноваційного потенціалу підприємств. Глобальні та національні проблеми економіки. 2017, № 19, С. 175–178.
5. Куркова К. М. Аналіз змісту положень Закону України «Про наукову і науково-технічну діяльність»: адміністративно-правові аспекти. Прикарпатський юридичний вісник. 2018, № 1 (22), Т. 3, С. 162–166.
6. Мартюшева Л. С., Калишенко В. О. Інноваційний потенціал як об'єкт економічного дослідження. Фінанси України. 2012. № 10, С. 61–66.
7. Медіна Т., Пендюр Н. Інтелектуальна міграція з України: причини та наслідки. Релігія та соціум. 2014, № 1–2 (13–14), С. 150–157.
8. Полковниченко С., Курочка В. «Відплив умів» з України як загроза національній безпеці. Проблеми і перспективи економіки та управління. 2016, № 4 (8), С. 16–22.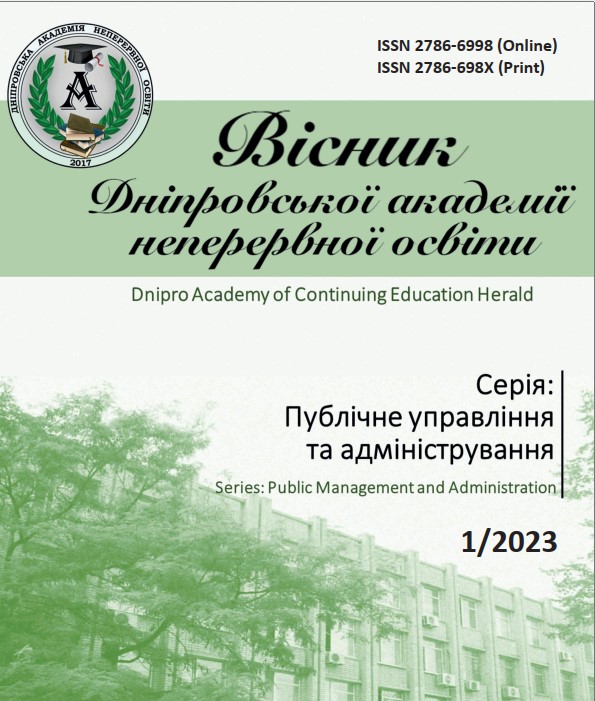 How to Cite
MARENICHENKO, V., & RYBKINA, S. (2023). MECHANISMS OF DEVELOPMENT OF THE SCIENTIFIC AND TECHNICAL POTENTIAL OF UKRAINE IN THE CONDITIONS OF EUROPEAN INTEGRATION AND MIGRATION PROCESSES. Dnipro Academy of Continuing Education Herald. Series: Public Management and Administration, 1(1), 15-19. https://doi.org/10.54891/2786-698X-2023-1-3
Section
"Dnipro Academy of Continuing Education Herald", Series: "Public Management and