PUBLIC MANAGEMENT OF ENVIRONMENTAL SECURITY OF UKRAINE UNDER MARTIAL LAW
Keywords:
public administration, environmental safety, martial law, environmental regulation, instruments of state environmental policy, public administration, military emergencies.
Abstract
The article discusses the main factors of environmental hazard caused by the consequences of military operations on the territory of Ukraine, and analyzes current approaches and instruments of public administration of environmental safety in Ukraine. The author proves the essential role of public administration in the implementation of the State's environmental security policy in the context of the risks posed by military operations. The current situation of the national security system of Ukraine necessitates changes in the system of public administration of environmental safety. Establishing an effective system of state control and rapid response to emerging environmental risks caused by military actions is the most important factor in preventing the consequences of military aggression, irreversible disruption of the normal life of the population, and will facilitate the rapid restoration of all spheres of development and normal existence of the country in the post-war period. The purpose of the article is to consider the issues and analyze the aspects and determine further directions for the development of the State management of environmental safety of Ukraine under martial law. It is substantiated that the peculiarities of environmental security are related to many aspects of its provision and the variety of threats which can affect the environment, which is the space of human existence, and the need to form environmental awareness of society. The main forms of environmental hazards arising during a military conflict are highlighted and the tasks facing public authorities in this context are defined. It is noted that ensuring the environmental safety of Ukraine is conditioned by the influence of economic, social and organizational factors that are formative for the public administration system. The author comments on the role of local self-government bodies in overcoming the consequences of military emergencies. Including environmental ones. It is determined that the system of ensuring the environmental safety of the population in the event of military emergencies is a nationwide political, organizational, managerial, socio-economic and legal measures interconnected in time, place and resources, designed to prevent natural, man-made and military emergencies and to combat their consequences. The materials of this article can be used to create a plan for the restoration of Ukraine in the war and post-war period.

References
1. Бондаренко Д. О. Адміністративно-правове регулювання екологічної безпеки в Україні. Редакційна колегія. 2017. № 3. С. 8-9.
2. Ємець Л. О. Адміністративно-правові засади управління у сфері забезпечення екологічної безпеки держави: автореф. дис. ... д-ра юрид. наук: 12.00.07; Харківський нац. ун-т внутр. справ. Харків, 2019. 42 с.
3. Іванюта С. П., Качинський А. Б. Екологічна безпека регіонів України: порівняльні оцінки. Стратегічні пріоритети. 2013. № 3. С. 157-164.
4. Колєнов О. М. Сутність екологічної політики в контексті державного управління. Вісник Національного університету цивільного захисту України. Серія: Державне управління. 2016. Вип. 1. С. 136-141.
5. Копанчук В. Екологічна безпека як складова національної безпеки України: сучасні концепції та підходи. Вісник Національної академії державного управління при Президентові України. 2020. № 2 (97). С. 45-49.
6. Кринична І. П. Управління процесами правового регулювання соціального захисту населення, що проживає на радіоактивно забруднених територіях. Вісник НАДУ. 2008. № 3. С. 230-237.
7. Маргасова В. Г. Зарубіжний досвід реалізації державної політики екологічної безпеки в контексті публічного управління. Право та державне управління. 2022. № 3. С. 213-219.
8. Романенко Є. О. Державне управління процесами забезпечення внутрішньої екологічної безпеки в Україні: організаційно-правовий аспект. Аспекти публічного управління. 2016. № 1-2. С. 67-73.
9. Семерня О. М., Любинський О. І., Федорчук І. В., Рудницька Ж. О., Семерня А. О. Екологічна безпека в умовах воєнного стану. Екологічні науки. 2022. № 2(41). С. 62-66.
10. Хилько М. І. Екологічна безпека України: монографія. Київ, 2017. 266 с.
11. Шматков Г. Г., Корабльова А. І., Прокоф'єв І. Б. Військова екологія: підручник для ВНЗ. Дніпро: ДВНЗ ПДАБА. 2018. 173 с.
12. Shaposhnykov K., Holovko O. State Regulation and Governance in the field of Small Entrepreneurship. Baltic Journal of Economic Studies. 2019. Vol. 5 № 4. Рр 236-242.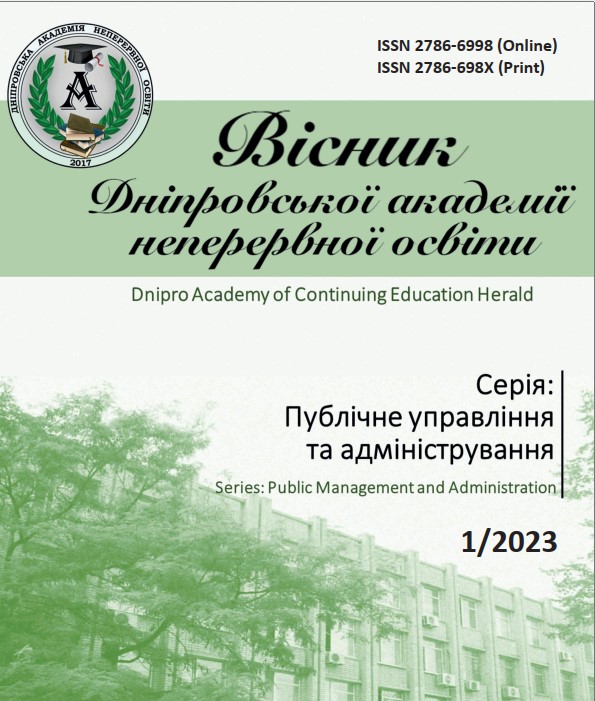 How to Cite
HRYHOROV, H., & HRYHOROVA, M. (2023). PUBLIC MANAGEMENT OF ENVIRONMENTAL SECURITY OF UKRAINE UNDER MARTIAL LAW. Dnipro Academy of Continuing Education Herald. Series: Public Management and Administration, 1(1), 25-30. https://doi.org/10.54891/2786-698X-2023-1-5
Section
"Dnipro Academy of Continuing Education Herald", Series: "Public Management and