METHODOLOGICAL ASPECTS IN NATIONAL PATRIOTIC EDUCATION IN THE CONDITIONS OF ACCELERATION OF EDUCATIONAL MOBILITY
Keywords:
education, upbringing, national-patriotic education, educational mobility, extreme situation, methodological aspects, content and form.
Abstract
The article is devoted to the phenomenon of educational mobility, which takes place in the options of an extreme situation and deep socio-cultural transformations of the 21st century. It is noted that modern mobility researchers agree on the possible two-fold impact of educational mobility on the life of society and a person: it can have both positive results and create many dangers and challenges. The actual problem of the non-return of a part of Ukrainian refugees who, through various international educational programs, became participants in external educational mobility, was considered. In the author's opinion, when studying educational mobility, its nature, problems, risks of possible transformation into migration, it is worth taking into account the motivational component, mentality, and axiological factors. Attention is focused on the main models and scenarios of possible human behavior in a foreign cultural environment. It is highlighted that «real» mobility is not driven by selfish desires or mercantile interests, but by an understanding of the need to acquire new knowledge and experience for its actualization in one's country. Therefore, the higher the level of national-patriotic education, the smaller the outflow of highly qualified specialists. Issues related to the formation of national consciousness, patriotism based on the latest theoretical and practical achievements of the democratic countries of the world are classified as acute problems that require prompt resolution. It was emphasized that an extreme situation does not automatically solve the problems of national-patriotic education. It should be carried out at all levels of national education, become the core of the humanitarian policy of the state and ensure harmonious and integral development of the individual. It is important that the content and form correspond to each other. It is emphasized that the content of national-patriotic education should include national ideas that can be manifested through culture, customs, language, history, religion, rituals, etc. Therefore, there is an urgent need to find new effective forms and methods aimed at combating formalism in education, which will contribute to the formation of a patriotic person who, as a participant in educational mobility, will be able to integrate into a new socio-cultural space for him and will not become a seeker of happiness in a foreign land.

References
1. Бондаренко Н. В., Косянчук С. В. Національно-патріотичне виховання у контексті сучасних викликів: методичні рекомендації. Київ: Фенікс, 2022. 64 с.
2. Галушко К. Ю. Нація. Енциклопедія історії України: Т. 7. Київ: Наукова думка, 2010. 728 с. URL: http://www.history.org.ua/?termin=Natsiia (дата звернення: 13.06.2023).
3. Костюк В. В. Становлення феномену національного виховання в історико-педагогічній думці України ХІХ століття. Вісник Запорізького національного університету. 2014. № 1 (22). С. 18‒23.
4. Кудря М. Збереження національної ідентичності в контексті глобалізації. Вища освіта України. Додаток 4. 2009. Т. 1 (13). 372 с.
5. Макеєв С. О. Соціологія. Київ: Знання: КОО, 2005. 455 с.
6. Мірошніченко В. І. Система патріотичного виховання майбутніх офіцерів-прикордонників: монографія. Хмельницький, 2012. 376 с.
7. Основи розвитку сфери національно-патріотичного виховання: методичний посібник для фахівців у сфері НПВ / О. В. Сіра, В. О. Волков, О. В. Ярошенко. Житомир, Держ. ін-т сімейн. та молод. політики. 2021. 100 с.
8. Про деякі питання національно-патріотичного виховання в закладах освіти України та визнання таким, що втратив чинність, наказу Міністерства освіти і науки України від 16.06.2015 № 641: наказ Міністерства освіти і науки України
від 06.06.2022. № 527. URL: https://ips.ligazakon.net/document/MUS37143?an=2 (дата звернення: 28.05.2023).
9. Радіонова Н. В., Швидун Л. Т. Освітня мобільність в екстремальних життєвих ситуаціях. Вісник Львівського університету. Серія філософські науки: збірник наукових праць. Гельветика, 2022. Вип. 44. С. 116‒121.
10. Свириденко Д. Б. Академічна мобільність: відповідь на виклики глобалізації: монографія. Київ: Вид-во НПУ імені М.П. Драгоманова, 2014. 279 с.
11.Слюсаревський М. М., Блинова О. Є. Психологія міграції: навчальний посібник / Національна академія педагогічних наук України, Інститут соціальної та політичної психології. Кіровоград: ТОВ «Імекс ЛТД», 2013. 244 с.
12. Хайдеггер М. Буття і час. Харків: Академічний проект, 2003.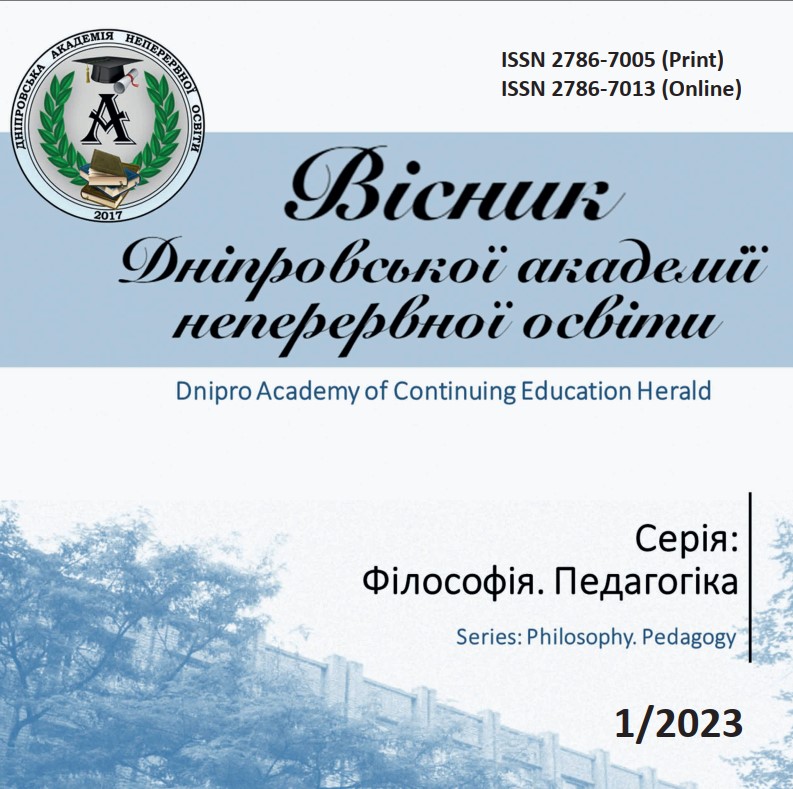 How to Cite
SHVYDUN, L. (2023). METHODOLOGICAL ASPECTS IN NATIONAL PATRIOTIC EDUCATION IN THE CONDITIONS OF ACCELERATION OF EDUCATIONAL MOBILITY. Dnipro Academy of Continuing Education Herald. Series: Philosophy, Pedagogy, 1(1), 33-37. https://doi.org/10.54891/2786-7005-2023-1-5
Section
Dnipro Academy of Continuing Education Herald. Series: Philosophy, Pedagogy