THE HISTORICAL, PHILOSOPHICAL AND THEOLOGICAL DIMENSIONS OF ORTHODOXY IN THE CREATIVE HERITAGE OF P. YEVDOKIMOV
Keywords:
faith, asceticism, man, culture, worldview, cognition, God, heart, love, tradition.
Abstract
The article provides a general overview of the philosophical and epistemological vision of P. Yefremov's views on the Orthodox worldview. The subject field of onto­gnoseological, methodological and anthropological components of P. Yevdokimov's worldview position is outlined. The position of the thinker regarding the philosophical and theological components of the genesis of Orthodox doctrine is determined. P. Yevdokimov's attempts to define the peculiarities of epistemological traditions of human cognition of the animal world and non­commodity God in the Eastern branch of Christianity are emphasized. The author analyzes the thinker's reflections on the relationship between denominations in Christianity on the basis of ancient Greek philosophy and the theological tradition of the first five centuries. The author emphasizes the special role of Jewish and Byzantine cultures, as well as the teachings of Plato and Aristotle in this process. The eschatological characterization of Christianity in the views of P. Yevdokimov as a basis for understanding the mystical and sacred nature of the Creator's dialogue with man and the world was considered. The issues of the methodological dimension of human cognitive capabilities are highlighted on the example of apophatic and cataphatic ways of comprehending the image of God. A descriptive and comparative analysis of these methods is carried out, their weaknesses and strengths are highlighted, as well as the impact of these methods on the Orthodox culture of thinking in general. P. Yvdokimov's desire to point out the mystical and sacred nature of the dialogue between man and the Creator in the Christian worldview is emphasized. The author traces the creative attempts of the French thinker to include in his analysis a number of new concepts and their author's content, which form our understanding of the semantic image of his philosophy. The author emphasizes the special philosophical status of man (as a subject of cognition) in the cognitive element of the human spirit, as a witness, commentator, participant and interpreter. The problem of love is revealed through an epistemological component, the important elements of which are the concepts of «heart» and «asceticism». This emphasizes the role of the monastic experience of Christianity in the formation of the Orthodox tradition of thinking. P. Yevdokimov's view on a special way of interpreting the Holy Scriptures and the patristic heritage – through feelings, as a form of exegesis, which the thinker calls «the instincts of Eastern Orthodoxy» is studied.

References
1. Дітріх фон Гільдебранд. Етика. Львів: Видавництво Українського Католицького Університету, 2002. 445 с.
2. Євдокимов П. Незбагненна Божа Любов. Київ: Дух і літера, 2004. 132 с.
3. Євдокимов П. Православ'я / пер. з франц. З. Гриб. Москва: Біблійно-Богословський Інститут св. апостола Андрія, 2002. 514 с.
4. Корбен А. Історія тиші. Від Ренесансу до наших днів / пер. з фр. І. Рябчія та Г. Малець. Львів: Видавництво Анетти Антоненко; Київ: Ніка-Центр, 2023. 144 с.
5. Кримський С. Запити філософських смислів. Київ: Парапан, 2003. 240 с.
6. Лакс М. Метафізика: сучасний вступний курс. 2-е вид. Київ: Дух і літера, 2021. 608 с.
7. Мовчан М. М. Страх як проблема буття людини в соціальному середовищі: монографія. Полтава: ПУЕТ, 2019. 356 с.
8. Уле Мартин Гьойстад. Душа. Пошуки, історія,культура / пер. з норвез. М. Никончук. Київ: Ніка-Центр; Львів: Видавництво Анетти Антоненко, 2023. 328 с.
9. Шпідлік Томаш, Гаргано Іночензо. Духовність грецьких і східних отців / пер. з італ. Я. Приріз та Р. Паранько. Львів: Свічадо, 2007. 144 с.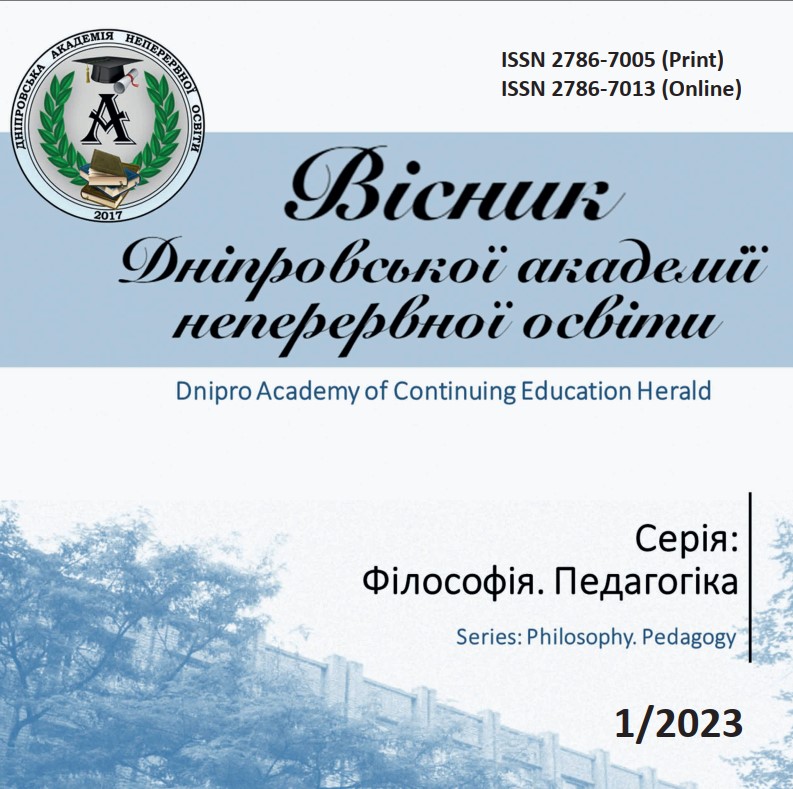 How to Cite
BORYSOVA, T. (2023). THE HISTORICAL, PHILOSOPHICAL AND THEOLOGICAL DIMENSIONS OF ORTHODOXY IN THE CREATIVE HERITAGE OF P. YEVDOKIMOV. Dnipro Academy of Continuing Education Herald. Series: Philosophy, Pedagogy, 1(1), 49-53. https://doi.org/10.54891/2786-7005-2023-1-8
Section
Dnipro Academy of Continuing Education Herald. Series: Philosophy, Pedagogy