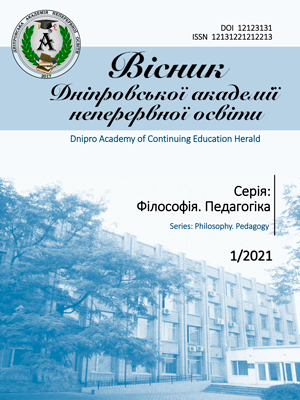 Periodical "Dnipro Academy of Continuing Education Herald", series "Philosophy. Pedagogy", registered with the Ministry of Justice of Ukraine on November 19, 2021, Certificate of state registration of mass media: series KV № 25053-14993P.
The scientific publication is included in the List of scientific professional publications of Ukraine of category "B" according to the order of the Ministry of Education and Science of Ukraine "dated April 27, 2023 № 491 a(in the field of Philosophy) and dated June 20, 2023 № 768 (in the field of Pedagogy).
Frequency of publication: 2 times a year.
The journal publishes original articles by authors in the field of history of philosophy, social philosophy and philosophy of history, philosophy of education, philosophy of management, philosophy of science and technology, ethics and philosophy of religion, history of pedagogy, comparative pedagogy and international education, vocational education and learning theory, inclusive education and correctional pedagogy, pedagogy of preschool and secondary education, pedagogy of higher education.
The journal accepts scientific articles, reviews, reports on scientific events and activities that meet the journal's profile and technical requirements
Each article undergoes anonymous peer review and checks for academic integrity (plagiarism).
The journal accepts articles in Ukrainian and English of a problematic, generalizing, review nature that have not been previously published. The editorial board registers DOIs for articles.
The aim of the scientific professional journal "Dnipro Academy of Continuing Education Herald", series "Philosophy. Pedagogy" is to publish the results of scientific research in various areas of philosophy and pedagogy. The journal is devoted to the problems of philosophy and pedagogical theory and practice in the historical and modern world context.
Thematic sections of the scientific professional publication "Dnipro Academy of Continuing Education Herald", series "Philosophy. Pedagogy" series:
PHILOSOPHY (History of Philosophy, Social Philosophy and Philosophy of History, Philosophy of Education, Philosophy of Management, Philosophy of Science and Technology, Ethics and Philosophy of Religion).
PEDAGOGY (History of Pedagogy, Comparative Pedagogy and International Education, Vocational Education and Learning Theory, Inclusive Education and Correctional Pedagogy, Pedagogy of Preschool and Secondary Education, Pedagogy of Higher Education).
The editorial board of the specialized scientific publication carries out external and internal review of all articles submitted to it. The editorial board of the magazine includes leading Ukrainian and foreign experts. The periodical cooperates with the largest higher education institutions of Ukraine and abroad, state authorities and local self-government bodies. Such cooperation involves posting informational materials, publishing scientific articles, conducting based on the publication of conferences, discussions and round tables.
Editor-in-Chief: Olha Vysotska, Doctor of Philosophy, Professor, Head of the Department of Philosophy of Communal Institution of Higher Education "Dnipro Academy of Continuing Education" of Dnipropetrovsk Regional Council.
We invite all scholars, teachers, graduate students and students of higher education institutions who wish to cooperate with our publication and offer you to publish your research results.
.